I came home to a very colorful bundle today from
Sassy Minerals
(aka Simply Sassy).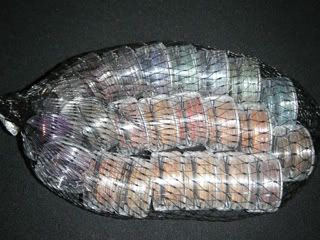 I even received 2 free samples: Rave and Off-Kilter. I was so excited to play with them, I took off all the shrink wraps and wanted to open them up to take pictures of the colors themselves. I opened one of them, decided it would take too long and be far too messy to do all of them. Instead, I flipped them over and arranged them in a somewhat orderly fashion.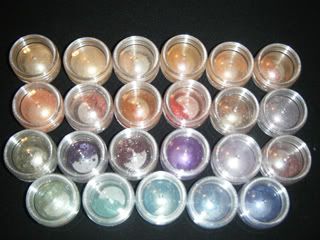 And because I realize how retarded it is that I'm purchasing all these products but I'm not doing many swatches, here is my lips in
Fyrinnae's
lip lustre,
Melancholy
. I moisturized my lips with C.O. Bigelow's Rose Salve and slowly used the sponge applicator to apply it. It's *very* pigmented so after 1 swipe, I had to smack my lips together and even it out. I should really invest in a lip brush. After several more dabs (I'm not kidding about how pigmented the color is) and several more smacks, this is the result.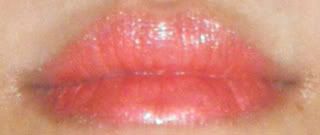 The color is brighter than I imagined. The shimmer is definitely there. I can see why people love it. :)
Look to the future for orders from
Cory Cosmetics
,
High Voltage
,
Beautiful Girl Minerals
, and
Meow Cosmetics
. And I mean
future
. I've still got plenty of swatch posts to do and reviews of the makeup I DO have. I'm waiting on stuff from
Morgana Minerals
and tomorrow, I should receive my
TAL
purchase.
Though, I may break and just go after Meow because damn, that
Egyptian Treasures
collection is beyooo-tiful.