Today's swatches feature some products from
Face Candy Couture
, a mineral makeup company that was reviewed by
Phyrra
during the holidays. If you are a blogger, then you are in luck! This company will send free samples as long as you follow a few basic rules listed
here
.
Since they were having a sale, I just went ahead and purchased the 8 full eyeshadows for $19.99. It's a fantastic bargain.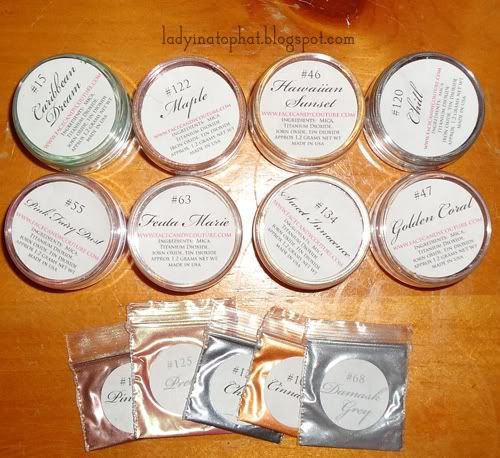 I received 5 additional free samples with my order. Shipping was quick and didn't cost more than $2.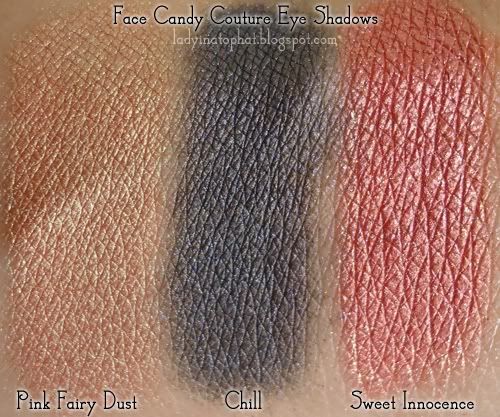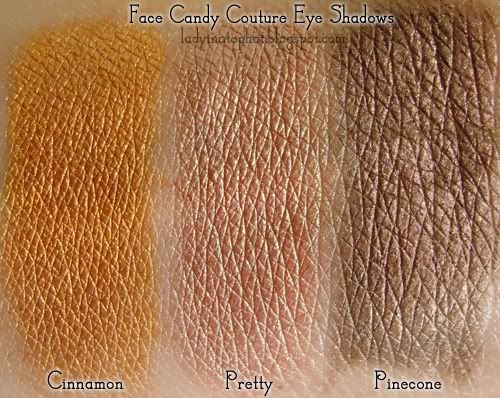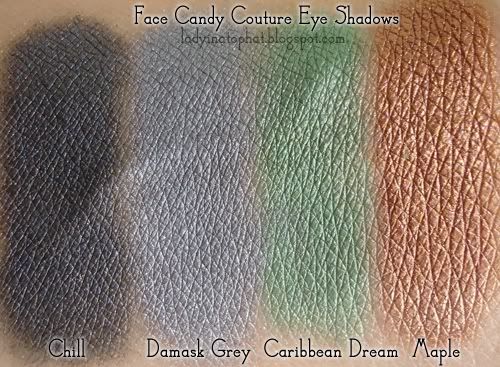 I accidentally swatched Chill twice because I purchased it in full-size and didn't realize it was one of the colors she had sent as a free sample. Other free samples include Pinecone, Pretty, Cinnamon, and Damask Grey. I really like these colors. They come with a lot of glitter but nothing crazy like Midnight Cowboy from UD. Feuta Marie comes pretty close to it though.
Overall
: The only con I have to mention is how tiny the sample bags were. I am not talking about the samples themselves - there was more than enough - but the tiny bags were hard to open and hard to close. However, it seems Shantle (owner) gives these out for free so dang, a little work ain't nothing. :D I enjoyed these colors. I think the formulation is pretty similar to Aromaleigh. Feuta Marie does have a high glitter content but it's such a soft, pretty pink that I think it'd be fine to wear for more conservative situations. The other colors are just as versatile (maybe not Chill but that'd be a great crease color). Shipping and handling was quick. I love the labeling - it's so colorful! I didn't have any issues with my order so I didn't need to contact costumer service.
All in all, I would definitely order again.
What do you think? Any favorite colors? Personal experience?