I just received my Mad City Soap in the mail today! Memorial Day knocked the shipping off so I had to sit in anticipation while these waited in the post office. :D Sue was a lovely lady to deal with. She put up with all my questions and patiently helped me along since I could not decide what I wanted at first. Finally, I settled on her sugar scrub sampler special: three 2oz. jars of sugar scrubs for $10. I got 6 sugar scrubs, which makes this total: $20 + S&H. Not too shabby. The package smelled FABULOUS.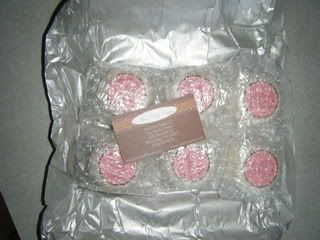 So prettily wrapped!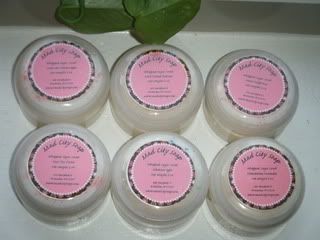 Here they are in their unwrapped glory. A couple of them leaked but that's expected since it was 94 degrees this weekend. D: So humid and hot! Clementine and Lavender is the one that leaked the most (which wasn't all that much in the grand scheme of things) so I decided that it would be my first test.
This smells of everything citrusy with just the slightest hint of lavender. I love it. It's so fresh, I think I'm smelling the actual rind of the fruit! Used it in the shower and goodness, the extra turbinado sugar gave it some super scrubbing power because my skin feels as smoothe as a baby's behind. I really couldn't stop sniffing and huffing. :D Hint: the warmer the water you use to rinse this scrub off, the more of the oils you wash away. Since my face is somewhat oily during the hotter months, I tried to rinse as much of it off as I could and it was still very well moisturized. Loved it! No need for lotion after, this one.
On another note, I'm seeing what I can do with my green thumb! I went to Whole Foods and purchased biodegradable pots, organic soil, and 5 packets of seeds. I planted 4 different types of herbs in 5 pots. 2 custom blend basil (which is a mix of thai, lemon, cinnamon, anise, red rubin, etc - all those different types of basil), 1 Italian large leaf basil, 1 shiso perilla (Japanese basil), and 1 cilantro. I had to soak the parsley seeds for 24 hours but after that, I was too lazy to pot them.
4 out of the five have sprouted! Came back from New York to find this:
They were planted on March 26th. :D
Unfortunately for some reason, the fifth one is resisting. I think it might have gotten mold. :/ I'm kind of worried because it hasn't sprouted at all. Makes me sad all the seeds might have died. I did plant 2 more pots of seeds though: 1 shiso perilla and 1 parsley. I went a little crazy with the parsley seeds. You're already supposed to plant them some inches apart. I just threw a bunch of seeds down in this tiny little pot. Yikes...
In any case, I took a picture of the new potted ones along with the fifth one that hasn't sprouted yet. It's the shiso perilla one too so that's why I planted a second one of it. The fifth one from the first batch (aka dying one, moldy one, etc.) is in the upper left corner:
I'm excited to see how they progress. :D I really hope they all germinate, even the strange little fifth one...hmm. My green thumb has been so crazy, I bought a lot of seeds on Ebay. Here is my herb seeds haul from Ebay along with the 5 packets of seeds I purchased from Whole Foods: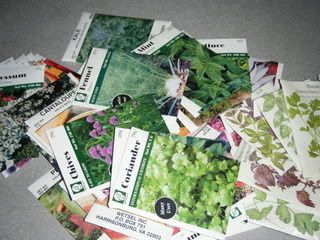 Anybody else exploring what they can grow in their kitchen? Let me know how it goes for you!