Hey all! So sorry I haven't posted in a while - Thanksgiving was muy busy and when it wasn't, I was doing some serious vegging. I had a great vacation. I left Wednesday night (one of the busiest traveling days, second to Sunday, which is the day people return from Thanksgiving) and just cruised all the way back to the NE coast. For the first time in many years, my parents took off from work to celebrate with my brother and I. I mean, we don't normally celebrate Thanksgiving so I guess this was really just a reason for the four of us to veg together. :D
Not only that, my dad put together a hot pot dinner. He doesn't like doing it because it's not very filling for him but I *love* it. :D So happy! He even prepared a bunch of items (ie: ingredients, the pot <-- COME TO MAMA) so that I could do hot pot back here.
I miss those guys. :(
I'm currently trying to make it through all the food my dad prepared for me. The mean is a beast in the kitchen. I wish I had his mad skills.
ANYWAY. Onto the much-awaited
Persephone Minerals
Sailor Moon
swatches!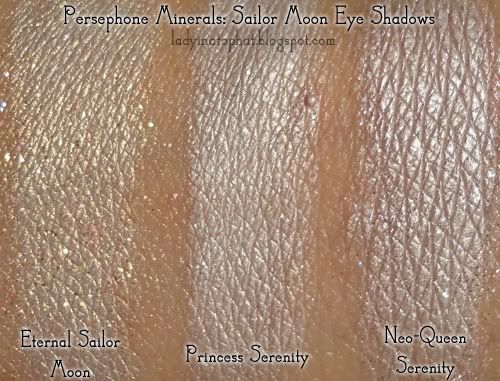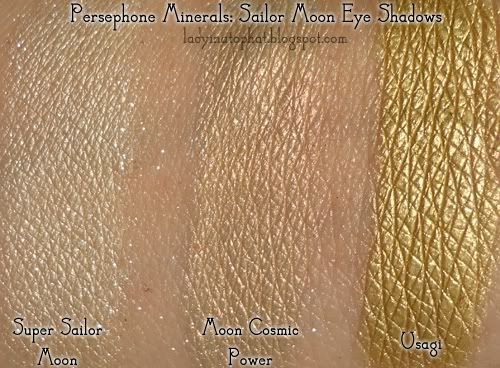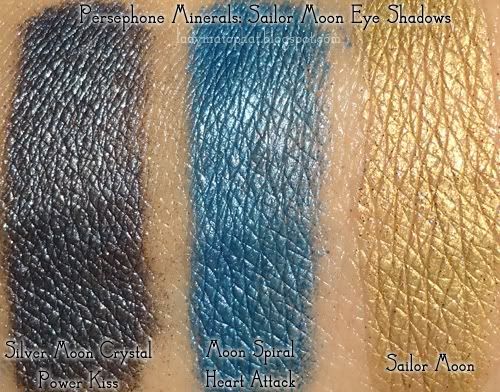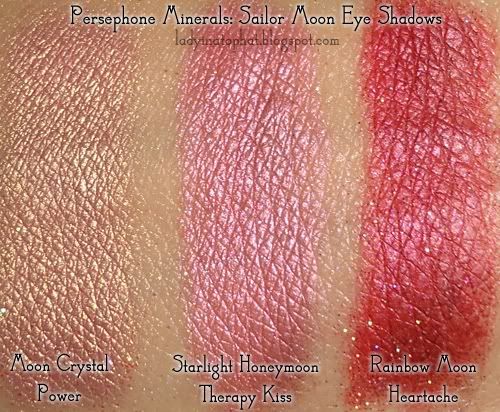 She even sent me a sample of their new
Rock 'N Roll Reindeers
collection: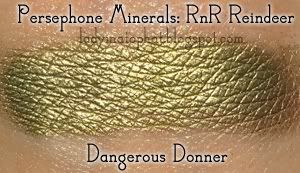 In addition, I got me some non-beauty items. From
Tempting Tart
, here is a
sampler set
of their awesome soy wax tarts. I've never used wax tarts before so I figured samples were the best way to go. Plus, it's SOY: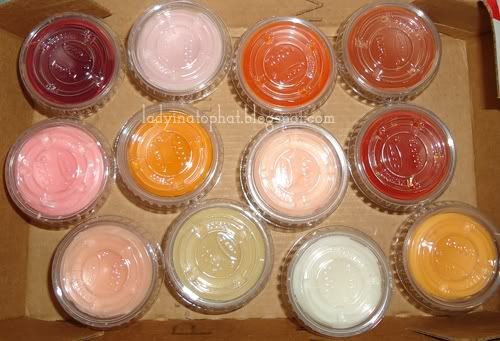 I actually got 17 tarts - they sent me a freebie, Warm Orange Gingerbread. Before taking a picture, I wanted to use one. So while I was packing (yes, I pack rather quickly; 1 hr tops is all that's needed), I lit the raspberry pomegranate one:
I was originally searching around for the store
Painted
blogged about once but I couldn't find the post again, nor could I remember what the store was. Then, a few days after I ordered from Tempting Tarts, she tweeted about them. I was all "YAY!" and got me ANOTHER set: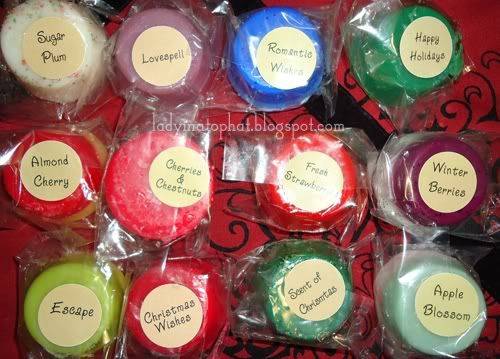 I don't think these guys are soy-based but nevertheless, they smelled awesome in the box. I guess the melting temperature must be really low because the wax is super soft. I will post a review of these babies once I've got through all the scents.
On
Persephone Minerals
...what are your favorite colors?
Mine are Moon Cosmic Power, Silver Moon Crystal Power Kiss, and Moon Crystal Power. I experienced quite a bit of fall-out with the first three colors I swatched even though I used Pixie Epoxy. Eternal Sailor Moon has some serious glitter-age going on.
On
Tempting Tarts
and
Country Home Scents
, have you tried them before? What do you think about wax tarts? Are they better/worse than scented candles? Include anything else you can tell me.
Shipping was moderately quick for Tempting Tart. I ordered on 11/14 and received my package 11/24. Shipping for Country Home Scents was supah fast. I ordered 11/21 and received these on 11/26 - 11/27.