Yay, more swatches!
The great prices and quick shipping - suriously. In. Love.
Anyways, onto the swatches! My room has horrible lighting.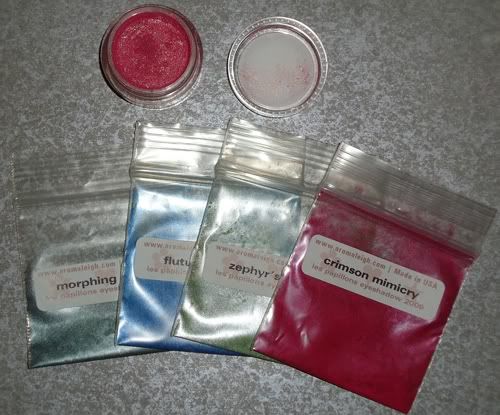 The kitchen has fabulous lighting though. :D
I got a bunch of free samples with my order (Whee! So generous!) so I'm going to do their swatches bit by bit with their respective collections.
I love Flutura's Cloud. It's such a pretty color and I even did an
EOTD
with it. Flutterby was the full-size one that I purchased and I'm so glad I did because I love the warm pink - almost coral - shade.
Another thing to know about Aromaleigh: fantastic customer service. This was my second time ever buying with this company and I am seriously happy with my products and the service. They emailed me back really quick when I let them know about the eye shadow mix up and some of the products getting on things. Kristen was very sweet and gave me an immediate refund. With the spill, I can understand that it wasn't their fault but Kristen still offered some suggestions, for which I an super appreciative.
For the prices I paid and the quick shipping, my overall experience with this company was great. :)
More swatches to come!