Here is what I've purchased from
Fyrinnae
so far: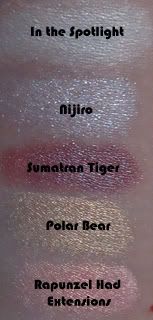 My favorite, hands down, is definitely Rapunzel Had Extensions. Where others go crazy over purple, I absolutely adore my corals/peaches. I love how soft and pretty this shade is and couldn't believe why I hadn't used it yet.
The oddest eyeshadow had to be Darling Misfit. I know it's a duo-chrome but I couldn't figure out why the blue highlights showed in some random figure-8 shape versus a straight streak.
The base was Fyrinnae's Pixie Epoxy. I still haven't gotten a hold of this product. D: I am practicing though. It might also explain the strange figure-8 shape.
Other color(s) I loved: In The Spotlight (I use this all the time), Titania, Daemon's Tail, and Shinigami. Hell, I love all of the colors. Will definitely continue purchasing from Fyrinnae. :D
Edit: The first and third pictures were taken without flash while the second one was taken with flash. Yikes. In any case, just remember that all the colors in the second picture are 2 shades darker than they show on picture. :)