I received Adorned With Grace a while ago but I wanted to wait until I had time to use it. They advertise themselves as a company that creates mineral makeup with colors formulated specifically for those with yellow/olive skin tones. I loved that idea and figured why not? Samples come in 1/16th tsp per baggie and I received 3 free samples of Celestial (silkening powder), Heavenly (rice powder), and Divine (oil-control primer powder). I haven't any use for them but I will try to work them into my morning routine.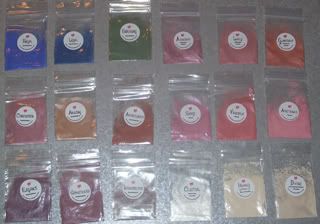 I used Sophisticated this morning and the color looks much darker on my eyelid than it does in the baggie. Much more purple also. I liked the way it went on because there was very little flyaway. With very little flyaway, you tend to have to use more since the formula seems to be a bit creamier (despite that fact that it is still an eyeshadow pigment) but I like it that way. It was probably too dark for work but perfect for those days when you want to head out.
Received my Fyrinnae stuff today! So happy. :D I love all the colors in the little jars (I prefer jars over baggies) and they even threw in a free sample of Sumatran Tiger. Yay! I think that was on my wishlist. No matter, I'm
sure
I would have wanted it sooner or later.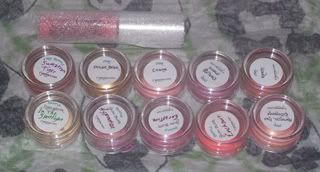 Will do swatches of all mineral makeup later!
Now all I'm waiting on are Sassy Minerals, Morgana Minerals, and my TAL (BPAL) order. Can't wait! I love getting stuff in the mail. <3