I've got some swatches for y'all this week! I figured if I didn't have any swatches, you'd all just have to bear with my looks. I don't mind doing them - it's just that I haven't figured out how to take pictures of my eye without them coming out blurry. :( Still learning to use this damn camera!
I saw some beautiful, beautiful swatches from
Just Peachy!
for an Autumn collection by
Darling Girl Cosmetics
and I just had to purchase. I set out to purchase the same collection but urgh, got side-tracked by the other pretty, pretty colors!
At $0.60 per sample, it was quite the steal! DGC also did not hold back on their samples. I received a tube of their LE Butter Rum lip balm, sample of Frolic, and a sample of Kiss Me tinted lip balm in Sassy. I am using the lip balm first thing, tomorrow morning. :D I ordered these 11/10 and received them 11/15. Holy jeepers, that's fast!
Wrapped with pretty polka dot tissue paper, protected by bubble mail, here is a picture of the samples I ordered along with the freebies they gifted: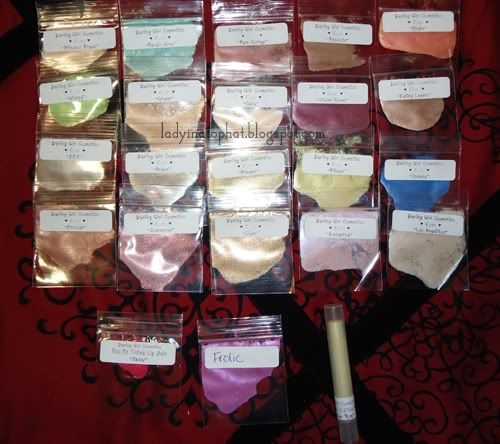 So my
Hi-Fi Cosmetics
haul was ordered on 11/02 and I received it today, 11/15. I got their
Art Saves!
collection after seeing some beautiful swatches posted by
Tianne Marie
: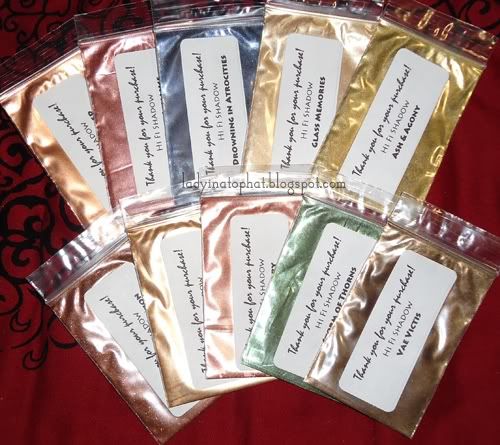 And the always generous freebies!
Will attempt to swatch as soon as I can. :)