I was looking around for some makeup remover because I thought, "hey, don't be cheap, stop using olive oil and scrubbing your face with soap." So I ran to a Rite-Aid near work and picked up this substitute:
It's comparable to L'Oreal Eye Makeup Remover. I have never used L'Oreal's makeup remover so I don't know how comparable it really is. All I know is that it's not effective...at all. Here is me trying to take off CG Perfect Point Plus in "Midnight Blue":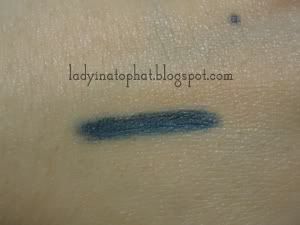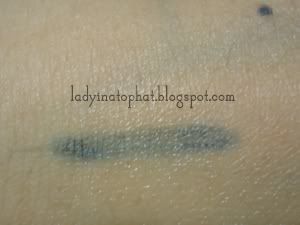 I doused that sucker of a cotton ball with the makeup remover. You have to scrub pretty hard to get any of your product off. Considering this is an eye makeup remover, that's not at all good for the most sensitive area of your face. In addition, it's even HARDER to wipe off your eyeliner if you've been wearing it all day and it's set into your skin.
It works alright when taking off mineral eye shadows. I haven't tried any other types but I know if the color is especially dark, you can't just go over your eyelid once or twice - a little bit more and it'll come off. It's not the amount of scrubbing you'd need to do with eyeliner, so there is that. In addition, if you're using waterproof products? HA. Don't even try.
I'm throwing my bottle of this out. I'm not quite sure why I wasted the money since using olive oil is always a better choice than a store-brand item. All natural, cheap, and works just as well, if not better. Olive oil is a natural emollient. Instead of soap, they used to use this back in the ancient times. They'd rub themselves with olive oil, let it set in, take a wooden flat-piece, and scrape off the entire day's worth of grime.
Then
they would hop into the bath.
I just have to be extra careful when washing off all the oil and nastiness it takes with it. I tend to get lazy with my skincare and rush through it. You should never rush your skincare.