I'm finally getting around to doing some more swatches. I still haven't received my Lost Rainforest replacement blush samples from Meow Cosmetics so those will be held off until I've got them. Wonderful customer service. They responded to my inquiry fast and while I haven't received the items in question yet, I'm sure they'll come. In the meantime, here are some swatches from their
Wild Child
collection. These eyeshadow and blush minerals are highly pigmented, great quality, and go on buttery.
These were taken in natural light on a cloudy day, no flash, and swatched over
Fyrinnae's
Pixie Epoxy.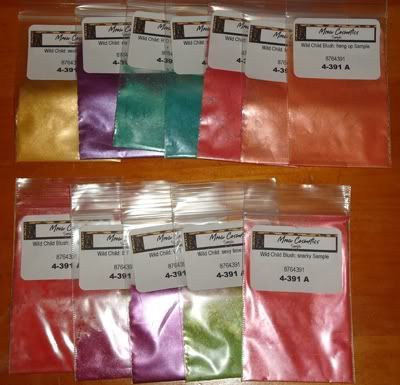 I really need to get a book for all these sample baggies I'm amassing. Below is the first set of swatches.
I fell in love with ROFLMAO. I don't know when I'd be able to wear it but the teal color with a lime green shimmer - it's gorgeous. As a lover of corals, I really loved BT Dubs also.
TTYL was another favorite. BFF was just flippin' fierce. It went on super smooth and buttery, too.
The blushes were super pigmented. I think I might use Hang Up as an eyeshadow though. I'm really loving the color. :D