I finally got around to doing the swatches for my
Adorned With Grace
haul. The most interesting thing about this company is that it's a vegan company who designs their makeup "specially for Asian (Yellow and/or Olive) skin tones."
I am feeling the love. :)
So, moving on to the swatches:
Compassion is one of the best mauve/taupe colors I've seen. I wish I had done these swatches earlier because then I would've definitely started using this for some of my day-to-day looks. Well, better late than never.
Elegance is another pretty mauve color. Amazing came out looking pink but it is actually a brownish-rosey type of color. Does that make sense?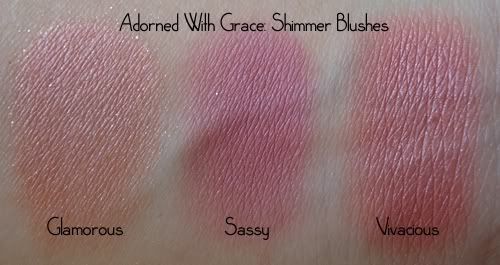 Blushes! I love Glamorous. I think it's a closer match to NARS "Orgasm" than Lumiere's "Ditto O" blush is.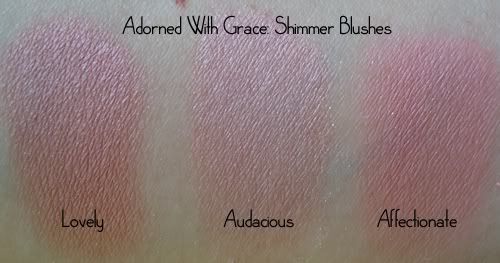 All pictures were taken in natural light. The eye shadows were swatched over Fyrinnae's Pixie Epoxy and the blushes were swatched over Hand Therapy's Citron Honey & Coriander lotion. I am definitely sticking a full-size jar of Glamorous on my want list. Woo!