BAH. I had my Meow Egyptian Treasures swatch post all typed up. THEN, I realized I forgot to do the swatches for their glows. Wtf? Haha, I will do those swatches tonight and you will see that post tomorrow.
Hello all! I am so sorry for being gone so long. Things have finally slowed down at work but now I'm being sent across the country for some training. I figured I should at least get a few posts in before things start getting crazy again. In addition, I've sent out my grad applications, got invited back for interviews and completed those interviews so only the worst part is left: waiting. I'm really wishing for the best.
Since I haven't bought any new makeup lately (I gotta get through my large, large stash of unswatched colors), I've had some money to play around with. I was going through my closet the other day and realized that about half my collection of shoes could go. They're out of season and some of them need work that I just don't want to pay for. In any case, they weren't terribly expensive (I am CHEAP) so I'll drop them off at a clothing bin (they have them all over DC) whenever I get the chance.
This leaves me with a shortage of shoes to go out in. Now have any of you heard about
Shoe Dazzle
?
ShoeDazzle is a monthly style service. Every month, for just $39.95, you receive a personalized selection and one gorgeous pair of shoes or item of your choice. The styles are selected just for you by our fashion experts. There is no obligation to purchase once you register, and you are charged only after you place your first order. In any month, you may select the Skip This Month button in your account section between the 1st and the 5th of the month and you will not be charged.
The way this works is that after you sign up, you do this very short, very basic personality test. It's to give the stylists an idea of your taste in fashion. After 24 hrs, they have a 'showroom' set up in your account. Each month, you get a selection of new shoes based on your style:
And if you don't like it, you have 'shoes that almost made it into your top 5' (or 6, in my case):
And sometimes, they'll bust out 'special deals' and introduce new items to everyone. I suspect that this is just their way of getting more money out of us. Sometimes it works. Sometimes, not so much. :)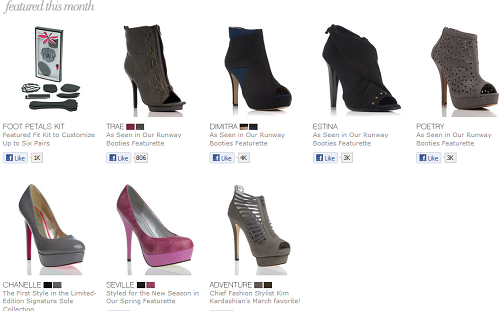 You also get a monthly selection of bags:
AND jewelry: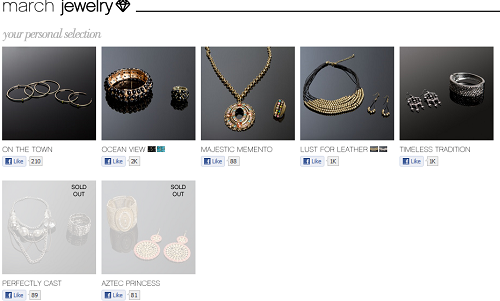 Because an outfit is never complete without it's accessories. ;]
And if you DON'T like your monthly selection, you can always request alternate selections. I already did it for March (you can only do it once per month) because these were my OLD selections:
Nothing here worked for me. Nothing in the new selection worked for me either. Although, I am eye-ing up Jolie and Tierney. I did purchase something from the "almost made it" items.
As you can see in the pictures, these are all my March items. I started back in February. Each item is $39.95. Domestic shipping and handling is FREE and they ship on the DAY of when you order, unless they don't have it in stock at that time in which case, they ship it the next day. UPS takes 3-6 business days to get it to you. I'm expecting my March items here on Tuesday and Wednesday. :)
If the item does not fit, you can ship it back for free and if they still have it in stock, receive the correct size - no extra charge.
For your first order, you can get 20% off your order if you use my
link
or any affiliate link in general. For the months after that, you can search around on the internet for codes. I found one for my March purchases: styleme20.
These were my February purchases:


Gosh, I LOVE Gracia. As for Primp, animal prints are not a style I usually go for but it was just a small touch, I thought "wow, this is really cute." The shoes really are cute. I find them pretty comfortable to wear - but that's because I've trained my feet to wear tall, tall heels without complaints (it's so bad for you, haha). I can't wait to find an occasion to bust these out in.
Am I obligated to purchase?
No. After you make your first purchase, you will continue being billed $39.95 by ShoeDazzle on the 6th day of each month. If you do not use it, it appears as a credit in your account that you can use within 12 months of receiving it. If you collect 5 credits ($39.95 = 1 credit so if you go 5 months without using them), you will not be billed until you've used a credit. If you do not want to be billed, you can skip a month (there's a button for it) but you must do so before the 6th of the month. If you don't want to do that, then you can call them and just cancel your account. :)
In conclusion:
I love it. Great selections, great shoes, cheap pricing, and if you see a shoe elsewhere (in someone else's showroom, on ShoeDazzle's Facebook page, etc) that you don't see in your showroom, you can always call them up and order the style. They will send it if they have it in stock. The best part is, is that there is no obligation to purchase. There is no limit to the amount of months you can skip and if you want, you can cancel your account at any time so that you don't have to remember to skip months.
If you did what I did (which was purchasing between the 1st and 5th day of the month - I am so impatient, lol), you will not be billed for that month.
Shipping and handling:
The items arrive wrapped in pink tissue paper, in a pink ShoeDazzle box, with a pink shoe bag, all in a cardboard box. I don't have a picture this time around but when March's selections get here, I will get them. If you decide the shoe is not for you for whatever reason, exchanges are completely free. If you want to return it completely, please note there is a restocking fee.
Customer Service:
Haven't had any issues where I've needed to contact them. This is only my 2nd month. I will keep you guys updated with my purchases and experience each month. :)
What are your thoughts? Have you tried this out? Are there other services just like this? I'd love to hear what you guys think!