How is everyone doing today? Finally, some stuff about makeup! First thing on the list, the wonderful and lovely Amanda over at
Glitter and Toucans
gave me an award - that is so cool! Awe, it made my week. :)
I am slowly but surely responding to comments. In the meantime, I finally did the entire
Egyptian Treasures
collection by Meow Cosmetics. These are such *beautiful* colors. Take a look: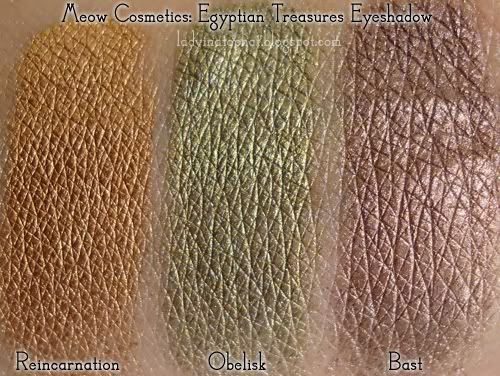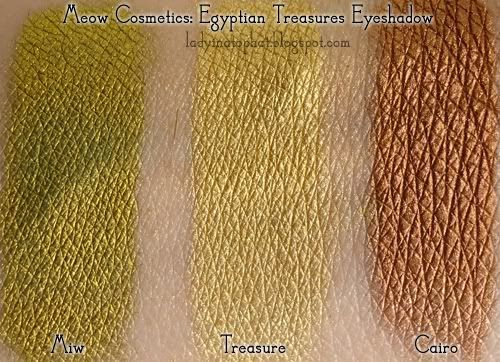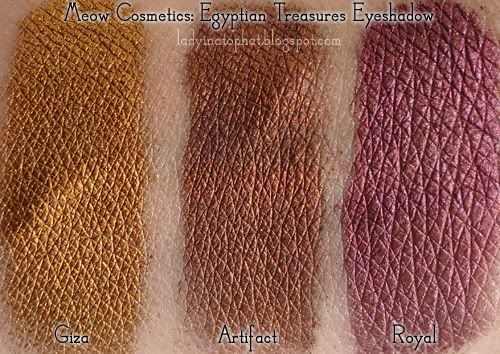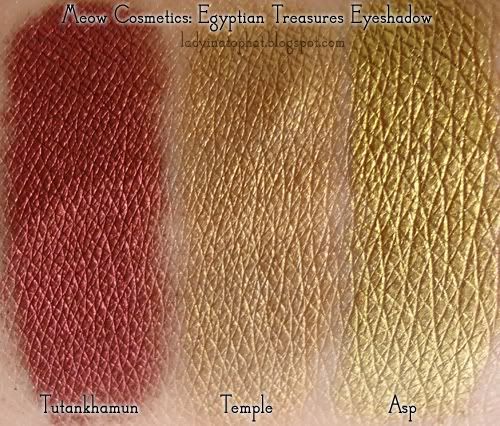 Thoughts:
I love this collection simply because of where they got their inspiration. My major was Financial Economics (plus another, more boring, pre-law one) but I would take whatever Egyptian history classes that I could find and fit into my schedule. I wish I could have taken the Ancient Hieroglyphics class - BAH. I still wish I could have taken it. Grr. In any case, I love, love the colors. I think Meow did a great job with this collection.
I do wish there was more variety. This collection had a lot of shimmery golds. Where are the blues, the purples? I know the Ancient Egyptians used blue. Although, the materials they used to achieve this color was at times, unstable and over the years, changed colors. So that's prob why we don't see much evidence of it, archaeologically. Also, Cleopatra was known to have LOVED purple.
I remember when I was just starting out with my research on indie companies, people had said the colors in this collection were too similar and I agree. Still, they're pretty so I don't mind. :) Great for the lovers of gold eye shadows.
S&H:
As always, absolutely no problems on this end. Fast and prompt. :)
Favorites:
The blushes are too shimmery and not the right colors for my skin tone but still very gorgeous. My favorite eye shadow colors are Obelisk, Miw, Royal, Sand Dune, and Nile (love the blue-grey color).
What are your thoughts on this collection?