Hi All! Just got back from my trip out to the West coast (for work) and I am pooped. I took the red-eye flight but since I had a transfer, it took much longer than it should have. It's all good, I got upgraded for my flight so that was some hot stuff. It was even better in addition to the fact that I had been upgraded for my hotel room. Haha, not that I used any of the extra room - usually got back to the hotel late so the only rooms I used were the bathroom and bedroom.
In any case, remember that big post of
stuff to come
that I did? I'm slowly working through the products. I know I should do more swatches but I thought I'd throw in some personal care items to shake it up. I just got my stuff from
Epically Epic Soap
along with
Herbolution
while I was away at work this week. I can't wait to share with y'all what I got!
Back to the point of
this
post...so like many of you, I follow
LeGothique
. I love checking out new makeup and body care companies; I think there's always a holy grail item to be found and I'll go to LeGothique whenever I want some suggestions. When I read this
review
of hers, I knew I had to try
Anderson Soap Company
out.
I purchased: Creamy Body Butter in "Satsuma", Rice Flower & Shea soap, Tropical Exfoliating Mango soap
Creamy Body Butter in "Satsuma"
: My skin has a tendency to "eat" up lotion. But sometimes, it's a picky eater so if a body cream/lotion/butter/etc has TOO many butters in it, the product will just sit on top of the skin. If the product has too little butter in it, I will find myself often reapplying, going through the product faster than normal. My skin is sensitive and it can get awfully dry. Anderson's creamy body butter in "Satsuma" has a fresh, citrus, bubbly smell. When I took a sniff, I thought it was a soda pop scent but it's a lot more sophisticated than that.
Satsuma is a clean and zesty refreshing citrus scent it is sweet with the delightful smell of pineapple, grapefruit, oranges, mandarin and plums.
Unfortunately, the texture was a bit odd. It wasn't 'creamy' so much as it was chunky. In any case, this doesn't mean you can't use it. I used it...and
a lot
. My skin loved it. I wish it had a higher moisturizing content because I found myself reapplying a lot and pretty soon, I went through my entire 2 oz. jar. See?
I kept huffing the jar too. It's such a fresh scent! I'm definitely going to see if I can get it as a perfume. I just checked and no cigar. They do have a room and linen spray though. :D Definitely a repurchase for me.
Rice Flower & Shea Soap
: It was still cold when I started using this soap bar. It's got little pieces of exfoliating particles than my skin would've loved in the summer but not with the drying cold. Still, I loved how it cleaned. The shea is definitely present. Unfortunately, the exfoliating was a bit harsher on my skin than it normally would be. The scent is light but beautiful. I wish the scent was stronger because I love the smell of rice flower. I would use this and lop on the creamy body butter - such a lovely combination. I had to stop using this but just until it gets a bit more humid outside. :)
You can see the little exfoliating bits in here: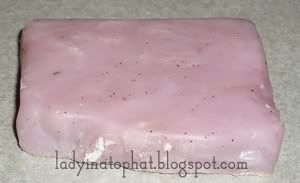 Seriously though, the smell is awesome. Just needs to be a bit heavier though. I sometimes thought the shea in the soap overpowered the rice flower smell, haha.
Tropical & Exfoliating Mango Soap
: Another great soap. It's got olive oil in it so that helps replace some of the moisture lost from the exfoliation the poppy seeds in it provides. This soap also has a wonderful, fresh smell but it's very light and disappears quickly. Not a repurchase or a must-buy, but also not a regrettable buy. :)
Overall Experience
: I think it was great. I'm definitely looking to purchase other items from this shop. As you can see from the pictures, I'm already done with my body butter so I'll need another jar. While I am quite happy with my products, I'd love to try out some of their other items! Shipping and handling was fast. You can tell from the pictures that the branding is also well done. Soaps came shrink wrapped and the butter was sealed very well to prevent any leakage. All in all, a fantastic experience.
Have you tried this company out? What were your experiences?