I finally received my Morgana Minerals haul in the mail. It took exactly 14 business days to receive my product. I ordered this 6/23 and received this 7/16. It's about a month's wait. Swatches: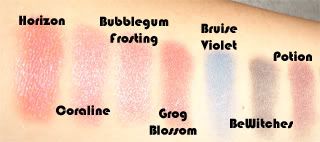 I primed my arm with a homemade base mixed up of liquid foundation and night cream. It works pretty well except for "Zaria." That eyeshadow had a bit of flyaway and difficult to stick. I would definitely recommend some sort of stickier base.
I've already used "Grog Blossom" and I love it. "Burgundy Rose" is just GORGEOUS and I'm looking for reasons to wear it. "Nightmare" and "Mischievous" are both beautiful purples. Definitely something you can wear day to day and not look as though you're heading out to the bar.
The texture is great, the colors are pretty. My only bit with this is "Zaria" which produced so much flyaway that I wasn't even sure if I was able to get the picture out. If I wore it, I would definitely need to use a sticky base like Fyrinnae's "Pixie Epoxy."
I had to take the pictures with flash because the lighting in my room is horrible but you can still get an idea of how pretty the colors are. I got spoiled with shipping by other companies. Usually, I'll receive stuff in a few weeks but not with Morgana Minerals - it took me over 3 weeks to receive it and even though the shipping label was printed on the last day before the TAT was up, I think it was sent out in the mail the day after. I also didn't receive any free samples but obviously, that's not an obligation of theirs.
Good quality product and she answered my email promptly but I think I'll stick with the others.