A lot of product-type reviews this week ladies and gents! After reading a review by the lovely Nea at
Fashioned in Finland
about
Nubian Heritage Olive & Green Tea Lotion
, I just had to make an order myself. Right now, I'm using the
Satsuma Body Butter
by
Anderson Soap Co.
which seems like it's thick and moisturizing at first but I find myself having to reapply often. I bought a 4oz. jar and it's almost gone. I needed something that was more moisturizing and would last me a while so when Nea posted that lovely review, I knew I had to try it out. The fact that each bottle was less than $8 made me quite happy.
I've already tried some of Nubian's other products such as their
Coconut and Papaya Soap
and
Carrot & Pomegranate Soap w/ Calendula Extract & Cranberries
. Both are fabulous soaps. The carrot one had tiny bits of sand in it which helps wonderfully with exfoliation. My skin gets super dry during the winter so that was not the right soap to use. I switched over to the coconut one and have been using it quite diligently over these last few cold months.
I was super excited to try the lotions: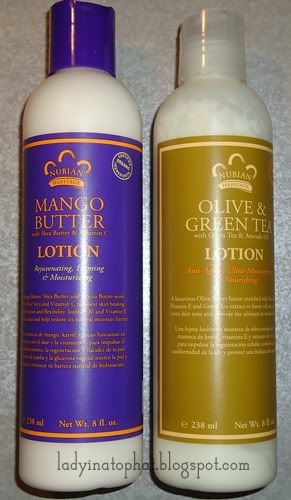 Nea was right. Nubian does not water down their products. It was REALLY difficult trying to squeeze the Olive & Green Tea lotion out because it was so thick. The Mango Butter lotion was a bit better to handle. It's still thick but not so much that you'll get carpal tunnel from squeezing so hard. It's also very moisturizing and has a fantastic, light smell. Check out the pictures below for how thick they are.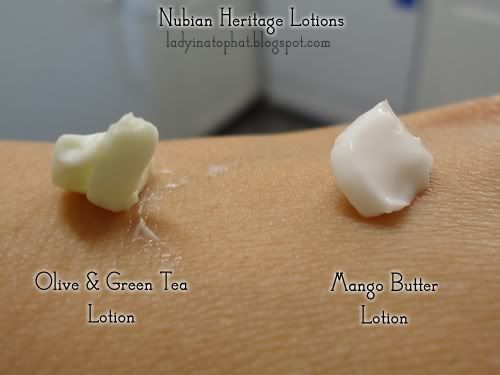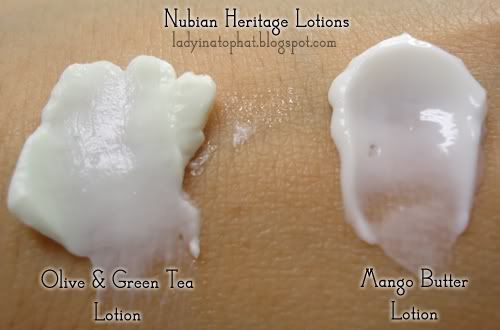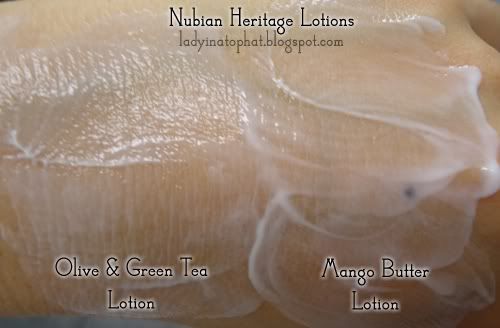 Conclusion:
-Shipping-
- iHerb has fantastic shipping. I ordered and the DAY that I ordered, they shipped my products. I ordered these on Thursday and got them on Saturday. I paid $4.12 in USPS Priority Mail shipping. For 2 bottles of 8oz each, that's very reasonable.
-Payment-
- I had a bit of a problem getting the $5 discount but after contacting them, they responded within the hour and had the credit applied. YAY!
-Overall Product-
- I've only used it one day thus far and I love it. I am definitely going to be ordering more products from this line.
- I apply the Olive & Green Tea lotion to my body after I leave the shower. Unlike Satsuma, I do not have to reapply. It's fantastic. It also doesn't leave an oily residue. For my skin type, I feel as though it moisturizes very well.
- If you don't like the thickity thickness of the above-mentioned lotion, the Mango lotion is a good step down. It's still VERY thick but it moisturizes just as well. You know that feeling when some lotions where your hands are oily but they don't feel moisturized? It's happened to me with a lot of generic lotions and homemade lotions. Haus of Gloi lotions do that to me so I've stopped using it. However, Nubian Heritage lotions don't do that to me. They settle easily upon my skin and leaves it feeling moisturized without that nasty oily surface.
-Ingredients-
- It has a "Certified Organic Ingredients" stamp on it. I took a look at the ingredients and I can't find any animal products either. Neither of these things really matter to me but for others, I thought this would be good to know.
If you shop at iHerb for the first time, don't forget to put in this code:
JOT305
. It's an extra $5 off your order!
Have you tried Nubian Heritage products? What did you think?