Good evening all! Hope your day has been going well. :) I've had a really busy week at work and it's nice that we're getting close to the weekend. I still need to do my Christmas shopping and hopefully, start on some of the b-school application essays. I also need to make an order at Fyrinnae soon because I'm running dangerously low on Pixie Epoxy.
Enough rambling! Per the lovely Amy's (at
Amyy's Addiction
- seriously, check it out for some fantastic eotds/fotds) request, next up is Meow's
Reindeer
collection: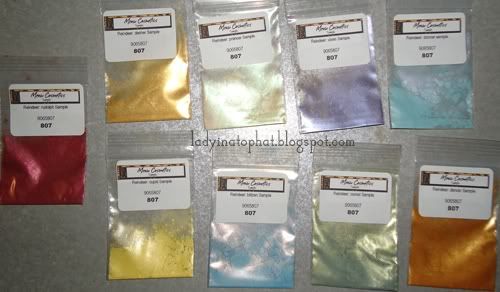 I think this collection is super fun. The colors are bright, happy, and definitely in line with their namesake and the holiday spirit. In the baggie, Rudolph looked like a darker fuchsia but it comes out a brilliant pretty red. Blitzen had some color shift action going on; I was seriously mesmerized. Comet has got to be my favorite of them all and I'm not even fond of greens!
What are your thoughts on this collection?