I busted out some hot pot tonight and man, I'm super full right now. I'm not quite sure what I should do with the remaining ingredients (we didn't finish it all) but at least I don't have to cook dinner tomorrow night. Work has been a little bit more stressful than usual. Budget season is here and it seems like my entire team is on edge.
I've got makeup to distract me from all that hullabaloo! :)
This collection is definitely a top favorite of mine. I love all the colors and I can definitely see myself purchasing some full-sizes of these babies. From
Meow's Glacial Grove
collection, here are the swatches: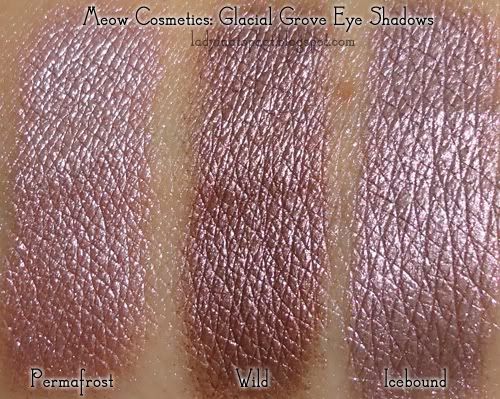 I can't pick a favorite. I seriously love all these colors and can definitely see myself wearing them at some point or another. I also love how they compliment each other so well! The last picture of swatches I took was kind of a poor picture but I promise the colors do not disappoint.
The quality is smooth with very little flyaway. I'm absolutely digging Meow's holiday collections so far. What do you think?