Hello all! I should be sleeping seeing as how it's quarter after 3 here in the East Coast. But I wanted to play with my cosmetics and well, what's sleep when you got makeup?
...Actually, in order to reduce fine lines, wrinkles, baggies underneath your eyes - you really should go to sleep at a reasonable hour. Don't do stuff like this, lol.
I started swatching my
Shiro
haul earlier but I had to take a break. After watching Paranormal Activity (I don't understand the hype), I finished the swatches. I even redid a few because I couldn't stand how they came out in pictures.
Anyway, if you haven't already, I suggest you guys check out
Shiro Cosmetics
! They already have one collection out based on Pokemon and this latest one is based off of the very popular (and awesome) video game, The Legend of Zelda.
Of course I had to get it. With these colors, why not?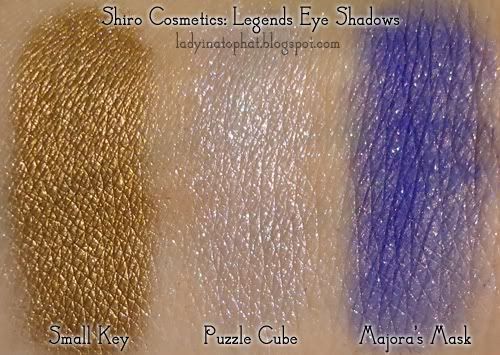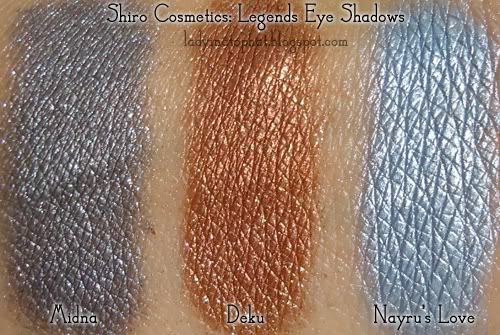 Favorites: Temple of Time, Moosh, Ganondorf, Farore's Wind, Veran, Zora, Oshus, Master Sword, Zelda (love this color!)
Had issues with: Majora's Mask and Puzzle Cube. I had to reswatch these twice because I didn't get decent pictures either time. I thought I was using too much/too little Pixie Epoxy. I don't have a solution but basically, if you're using PE, you need to pat these shadows on. I think Puzzle Cube would probably work better as a veil over your eye shadows (it's got some awesome color interference going on) but as for being just eye shadow, I wouldn't know how to go applying it. You would also have to pat, not swipe, with Majora's Mask. It was a beautiful deep purple color with all this glitter but you had to pat it on because even with Pixie Epoxy, it was difficult to get a consistent swatch without patches.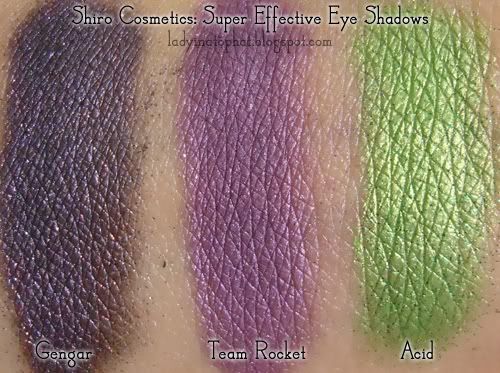 These came as freebies. I love Team Rock and Gengar. How did they know I love purple?? Lol.
Would I buy from them again? DEFINITELY. I really need to mention that each sample size comes with 1/4th tsp worth of product which is more than enough to full-fill your sampling needs. It's very competitive at $1 each. Many indie mineral makeup companies sell their samples for the same price but they only provide 1/16th tsp worth of products. Fyrinnae offers 1/3rd tsp and 1/4th tsp (depending on the color) per color for $2. But they don't call them samples so much as minis. You're getting minis with Shiro. :)
Shipping was uber fast. I ordered either Thursday or Friday and it arrived in less than a week. The colors are gorgeous, the quality is obviously well-formulated, the labeling and packaging are so very cute and neat, not to mention their customer service is definitely not lacking. :)
I'm definitely loving these colors. Hope you're loving them too!