So it looks like I'll be getting a 3rd roommate come Monday evening. Never met her before, my other roomie found her off of her university wanted ads, originally wanted new girl to move in next week instead of this week - all in all, I can't help but be a bit wary. But I must remain positive!
Which isn't hard to do considering I just swatched
Friday 13th's
collection from
Meow
. These pigments are utterly eerie.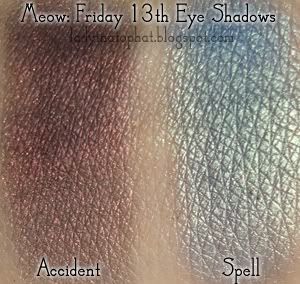 Most of these colors looked nothing like what they did in their baggies. I think it makes the experience that much more fun. :D