It's a nice, sunny day today so I thought I'd do some swatches. I think I need to find a better lit area of my apartment because these pictures look like they were done under florescent lighting. Teddy Wisp and Angel Bouquet samples along with the full-size jars were purchased by me. The rest of the samples were generously given by the ladies at
Aromaleigh
.
Taken near my window with flash. It looked better with flash. Without flash, it looked muddy.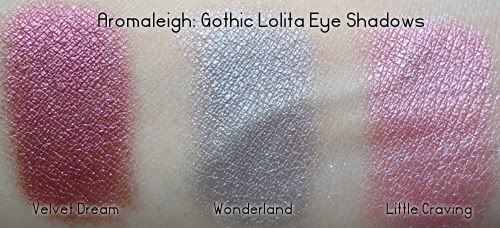 Little craving is a very cool pink. I have a really hard time wear really cool pinks because it doesn't blend well with my skin tone (fair, yellow/olive undertones).

Teddy Wisp is a very beautiful taupe. Angel Bouquet has that same cool undertone going on. I love how vibrant Purple Princess is.
More swatches to come!