First, sample sets for the 3 new
Aromaleigh
collection - Mythos, Wonderstruck, Spells - are now all available right
here
. Second, you can purchase the full-sized jars of Mythos over
here
,
here
, and
here
. Third, today was a HUGE makeup purchase day for me. I purchased sample sets of
Meow's
3 newest collections, a sample set of
Fyrinnae's
new Dia De Los Muertos collection, and sample sets plus full-sized jars of Aromaleigh's three newest collections! Yay! To think I thought I might not have anything to swatch after I finish my Aromaleigh ones. ;]
I finally found some time to do a few more swatches. I really wish my apartment had better lighting because my camera needs all the help it can get. (I bought it for real cheap.)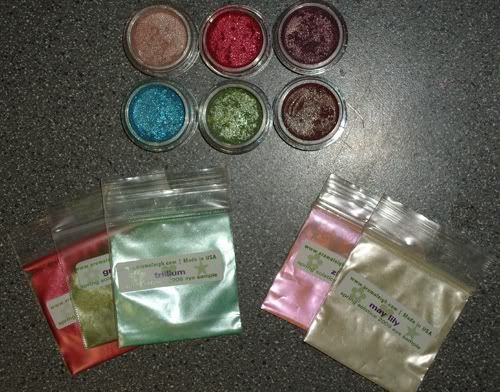 For my second order, I purchased all full-sized jars and they sent me three freebies. Two of the samples were part of my first order ever with Aromaleigh.
Absolutely LOVE Alyssum! Ondberry looks like a great crease color. Can't figure out what to do with Nasturtium. Red has a nasty habit of making me look super gothic.
I originally ordered Campanula from the
Satin Petals
collection but they sent me Calendula instead. Lol, the pigment I got didn't look like the pigment pictured in Satin Petals' color chart but swatched, it looks like it could be. I love the cool silver hue. I'm loving the gold shimmer in Forget Me Not.
I can't figure out whether or not I like Zinnia! It's such an odd color. It looks like a light peach in the sample bag. Swatched on my skin, it takes on a lavender hue. Psychadelic.