This is going to be a picture heavy post. I've swatched 3
Aromaleigh
collections that I only got a few eye shadows of. Boy do I regret it! These colors are absolutely stunning!
From the
Valentine 2009
collection:
Fervor is definitely the favorite of these two. I love the dusky rose color. I got a sample of this in my first Aromaleigh order. Then when the clearance sale came around, I didn't hesitate to purchase a full-sized jar.
From the
Eye Plush
collection: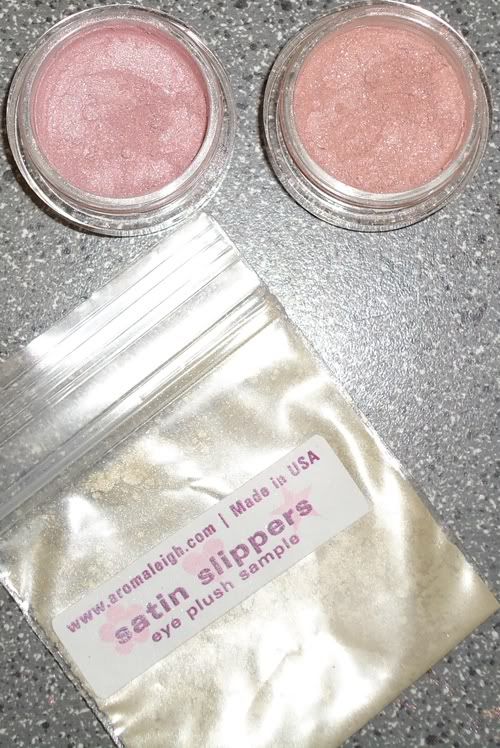 These are definitely good colors to wear to a conservative work environment. I say conservative because I know some ladies out there are rockin' the bright colors to work. While I'm not banned from wearing the same colors to work, it would just seem a bit strange for the environment I work in. And so exists this collection. Satin Slippers was a freebie and I'm loving the color.
And finally, from the
L'orchidée
collection:
I absolutely love Jewel. It's got a peach shimmer to it which I was unable to capture on film. Tangleroot also had the same warm peachy/copper shimmer to it. I'm definitely going to try a look with these two tomorrow. I REALLY wish I had purchased more from this collection. I may be taking advantage of their
sample 3-pack deal
.
Throat is still feeling sore but since I'm expecting my
Meow
haul tomorrow, plus I still have
Ciao Italia!
and
Opulent Lustre
collections to swatch, I'm drinking lots of spicy soup in hopes it'll push it along. That way, I can get more swatches in before my new Aromaleigh haul finally arrives.
Which, by the way, I am SUPREMELY jealous of all of you who have already received your packages! I'm already anxious to purchase the full-sized jars of
Wonderstruck
that just went live today!