From
Aromaleigh's
En Pointe collection. I was going to combine this collection with some others into one big post because I had so few colors. I'm feeling a bit under the weather though so I only had enough energy for these swatches.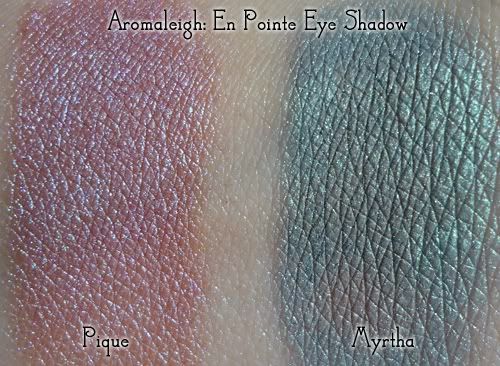 Is Myrtha supposed to have a bit of copper sheen to it? Because I can't figure out where that odd brown color is coming from. Maybe I need to clean my swatching brush better, lol. I think I shied away from this collection when I was going through my purchases for the clearance sale because of all the duo chromes. They were on the "cool" side of the color spectrum and unfortunately, my skin tone does not combine well with those shades. Sad face. I still wanted to give it a try and I think I've used Myrtha already! I don't know if I liked the look but I think that was really just an issue of application. D:
I need to put a watermark across some of these pictures. I knew I was forgetting something!
They've also got the
Pure Rouge
collection back in stock. You can find more colors in the mini sizes versus the large sizes. I finally got my hands on a jar of "Verve" which is apparently, the best dupe out there for the ever-so-popular NARS "Orgasm" blush. I also got a mini jar of Quintessential Pure Rouge along with a set of 10 of those 3/1 packs (3 sample packs for every color). So 30 sample packs for $12.50? Freaking a, cannot beat that. I was gonna get more but I'm trying to be good so I can budget myself for all of the Spells and Wonderstruck full-sized jars. :D