I love MSN. Since I don't watch that much tv (and as such, the news), I keep up to date on MSN. More often, than not, I am surfing their Health & Beauty section. Today, they had a gallery of must-have beauty creams aptly labeled, "Everyday Luxuries." And I say "aptly labeled" because the price tags on some of these kiddies are outrageous. Their description for this gallery is as follows:
A luxurious cream is an easy way to spoil yourself a little bit each morning. We rounded up the most deliciously decadent lotions, whether they're scented with citrus or crammed with yams. Whatever your preference, it'll help start your day off on the right note.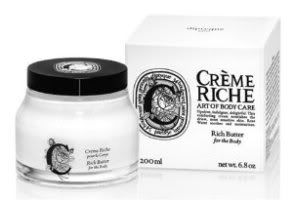 Diptyque Crème Riche Body Butter
($90)-
Byzantium an ancient Greek city and an Oriental dream where odalisques pamper themselves to preserve their beauty, basking in exquisite baths. As luscious as a Turkish delight and soft as a Byzantine rose, this deliciously rich cream is a powdery caress after a hot bath. It is a sensual, welcoming contrast, like fresh butter on languid skin. A total indulgence, this Rich Butter is like a lavish, satin comforter. A sumptuous blend of choice ingredients, Rich Butter combines the renowned soothing properties of rose floral water with the radianceboosting effects of organic honey and the long-term protection of argan oil which nourishes even the driest, sensitive skin. It leaves the skin glowing and delicately perfumed. Its Formula Rose Floral Water refreshes, moisturizes and soothes the skin. Organic Honey helps boost the skin's moisture and radiance. It is rich in mineral salts, vitamins and fatty acids. Argan Oil (virgin, organic) is concentrated in vitamin E, fatty acids and sterols. It nourishes even dry, sensitive skin and gives it long-term protection by combating free radicals. Its Fragrance The generosity of Damask Rose melds with the mystery of Myrrh and the strength of Peru Balm.
My face has normal/oil skin. The rest of my body is pretty dry. A thick lotion probably wouldn't be good for either type of skin. :/ If it's too thick, it'll just sit on top of the dry skin. As for my face, well, I'm already using something else, so pass.
Santa Maria Novella Body Milk
($74)-
This body lotion, specifically formulated for all skin types and hand made the same way for over 700 years, tones and gives the skin softness and elasticity. Lightly scented with locally grown gardenia and rose this luxuriously pure body milk instantly absorbs into the skin without a trace of greasiness, leaving the body toned, nourished, and beautifully moisturized thanks to its hydrating vegetable oils, cocoa butter, white beeswax and avocado oil ingredients. Apply liberally all over the body, use every day. The elegant glass flask is sturdy enough for travel.
I've always wanted to try a skin latte (ie: lotion with milk). The price seems kind of high but it sounds like this would be the 'everyday luxury' point they're try to make. This makes it into my "maybe" list.
Nude Moisturizing Body Cream
($48)-
Nude Moisturising Body Cream is formulated with organic cupuacu and hyaluronic acid to nourish and hydrate for beautifully soft skin. Sesame oil deeply conditions while milk proteins soothe and protect against dehydration. Organic shea butter and baobab oil moisturize for skin that's supple and smooth to the touch.
Facial lattés seem to be popular. Here is another product that has milk as one of it's ingredients. It's completely appealing because it's all natural, the price isn't too bad in terms of high-end moisturizers, and it's free of all these chemicals that could possibly clog and irritate your skin. In addition, the texture seems like it would work with both dry and normal/oily skin. Actually, it seems a bit too heavy to use as a facial moisturizer but during the winter? I'd go hog wild. Putting it on my wish list of things to try. :)
Marc Jacobs Lola Body Creme
($50)-
Lola is an intoxicating swirl of rich layers, wrapping the skin in sensuous florals blooming with a signature note of fuschia peony. The ultimate indulgence for bare skin, this rich body cream lavishly moisturizes and envelops the skin in pure luxury; it leaves it silky, radiant, and veiled in the sensuous scent of Lola.
Uh...I'm not even sure what this product could do except make you smell good. :/ Pass.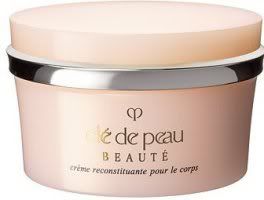 Clé de Peau Restorative Body Cream
($135)-
This extravagantly rich body cream provides an intense combination of skin smoothing, firming and energizing effects for a renewed look of youth. Retexturizes skin and helps it maintain moisture all day for a dewy glowing look. Melts into skin and helps reinforce the skin's natural support system to firm and energize. 7.2 oz.
I was really interested in this product. For instance, why does MSN have in their picture (not the one above) a spoon of what looks like orange salt? Also, what could possibly make something that tiny cost over $100? Worst part was, I couldn't find anything on Google regarding reviews on it. I sort of want to get it, just so I can say: "I USE $135 LOTION - WHUT WHUT." I'm extra.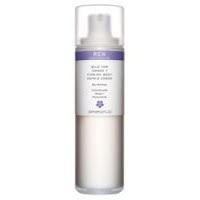 Ren Wild Yam Omega 7 Firming Body Repair Cream
($57)-
A rich body cream formulated to actively help nourish, regenerate and firm dry and mature skin. It contains phytosteroids derived from West African Wild Yam which promote collagen synthesis and improve skin elasticity and moisture retention levels. Phytosterols from Soybean boost skin lipid content while rare Omega 7 Palmitoleic Acid from Arctic Seabuckthorn Berry oil helps skin repair and regeneration.
THIS. I have never come across this company but anybody who uses both yams (African yams at that. I'm sure there is a difference.) and soybeans gets two thumbs up from me. I don't even know what Omega 7 is but it sounds so badass. Another addition to my wish list of things to get in the far, far future. :D
Glowology The Balm
($24)-
Organic shea butter creates the perfect base for an intensive hand and foot cream. Organic sunflower oil helps to soften and moisturize dry skin. Bilberry, lemon, orange, sugar cane and sugar maple extracts gently exfoliate rough skin. Clinically-tested and hypoallergenic. 6.5 ounce jar. Arrives in signature box.
I think this is the cheapest of the bunch and no wonder. It actually sounds like a body butter to me. Premium body butter. Maybe I'll try a sample but I wouldn't purchase. I can put that $24 towards another item I've never tried before.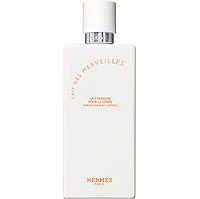 Hermes Eau des Merveilles Perfumed Body Cream
($60)-
The French brand is the epitome if luxury which makes this moisturizer the Birkin Bag of body cream. Subtle bitter orange and Italian lemon makes the scent as sophisticated as the design house.
There was no description on their website so I pulled that description from the MSN feature. I would not purchase. For $60, I can get better skincare products that smell just as good, if not nicer. At least provide some idea of what it does? Or maybe, not doing so is the new 'chic.' I don't know. Never been too fashion forward and am too lazy to start. :P