A lot of the holy grail items I come across in beauty blogs consists mainly of foundation and primer (face and/or eyes). Mine is neither. I rarely, if ever, use foundation. I don't see why I need all that product on my face. I work long hours and if I'm wearing throughout work, my skin hardly has any chance to breathe. Foundation won't ever make it to my list of holy grail items. Same with primer. Extra product and since I do that basic color-on-cheek-and-eyelids thing, why bother with primer? My
Shiseido Color Stick
is good enough.
I should use a matte-fying product because my T-zone gets extremely oily and shiny. If it gets to the point where I can't deal with it anymore, I just wipe it with a clean, wet paper towel. So primer isn't my thing either. What is my thing...
Estée Lauder Idealist Pore Minimizing Skin Refiner
Enjoy our most dramatic skin resurfacing benefits—faster, more efficiently than ever before. Pores appear 1/3 smaller instantly. See a 69% reduction in the look of pores in just 4 weeks. Repairs the look of uneven skin texture, flakiness and roughness. See more highly refined, virtually poreless skin. More clarity, smoothness and luminosity. Smooth on Idealist and instantly enjoy that soft, seamless, silky feeling you love. Includes 3 times more Glucosamine than original Idealist. Pore Diminishing Technology significantly shrinks the look of enlarged pores. Gentle-acting Chestnut Extract helps free your skin from dry, dulling, flaky skin cells. It's as if you're seeing the skin you were born with, all over again: Virtually poreless. Unbelievably soft and smooth. Incredibly clear and even-toned.
The problem with my skin is not pimples/acne but random spots and the blackheads/pores. I hate, hate, *hate* the blackheads on my nose and chin. Mainly because I don't know how to get rid fo them. No amount of Bioré strips will take that stuff off. Even if it does come off, I don't know how to keep it *away*.
This product is great. I was introduced to it by a sales rep who gave me a sample. Used it and went back to purchase the full-sized product. I put some on before my moisturizer and my skin is immediately smooth. Use it often enough, you will definitely see a reduction in pores along with an improvement in your skin. One night, I remember checking out my skin and thinking, "wow, I think there's a bit of a glow to it." This was without any product whatsoever. I might have been crazy but I remember really liking my skin at that point. The pores definitely shrink.
I am running out and this product is something like $73 for 1.7oz worth of product. I stopped using it for a while and now, I'm going back to finish up my bottle. Here is what the product looks like: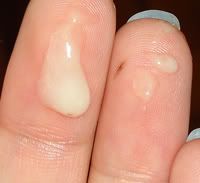 It's a nice gel. Not too watery, not too thick, and with a light hint of citrus.

Ack. You can see my pores and blackheads here. D:
This is only something like 5-10 minutes after the fact. You can't see much difference but my skin feels great. When it dries (my skin just sucks it up), it feels super smooth. I don't know if there's silicone in it or some other sort of covering but damn, if your skin doesn't look flawless, it sure feels flawless. But that's just how it reacts to me. It could be completely different for someone else.
My pores and blackheads are still very disgusting so I apologize for that. D:
More product info:
Every morning, apply on clean face and throat before your moisturizer. PORES LOOK SMALLER. Idealist's revolutionary Pore Diminishing Technology makes enlarged pores look virtually invisible by treating their appearance from the inside out. Immediately, it begins to dissolve away pore-clogging debris. Dead skin cells are continuously cleared away. A super-potent anti-oxidant—NDGA—also helps shrink the look of enlarged pores by helping reduce the build-up of excess oil deep within pores. SKIN LOOKS SMOOTHER. Idealist banishes flakiness and roughness and helps your skin naturally speed fresher skin cells to its surface. Gives skin an overall more even tone. With 3 times more Glucosamine (a sugar-derived, non-acid refinisher) than our previous formula, it loosens the bonds that bind dead, dulling and flaky cells to your skin's surface. A proven blend helps fade the look of dark spots and discolorations over time. Underneath the skin you see, is the skin you want. Feel it. See it. Have it now, with Idealist.
That sounds pretty cool. I always try to make sure my skin products have anti-oxidants in them. This has no SPF in this but my moisturizer has SPF 15. For some, that may be too little. For me, unless my computer is shooting out UVA/UVB rays, I don't think I need to worry too much about getting something higher. Besides, nothing beyond SPF 30 works anyway.
I will get more as soon as I finish my bottle! I will also post a shot of my nose/cheek area so you can see how it has worked. I haven't used it in a while, my morning/night skin cleansing process has changed, so who knows? As you can see, there isn't much left so this should be quick. :)