Here are swatches from the
Lumiere
goodies I received recently. Eye shadows up first!

Oh my gosh, I absolutely love how well these pigments go on. It's buttery, there's not that much flyaway, and even though it's highly pigmented (you only need a small amount), it doesn't come off like colors you should only wear at night. My favorite is Allure. It looks so bright in the jar but when you swatch it on, it's actually a very subtle, pretty, pink with gold color. Subtle might not be the right word, makes it sound more boring than it is. It really is a pretty color. I love it. I am definitely going to start integrating this into my daily makeup routine.
The free sample I chose was Silver Rose. Also a very pretty color. It's a bit cool for my tastes but I'm still going to try it out in some new looks.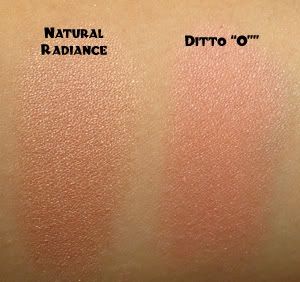 "Natural Radiance" is a Lumiere face and body enhancer. I got it because I've been meaning to try out a glow for a while, but haven't found anything that made me go, "Wow. Must have." Then I saw a swatch of this and since Lumiere was having this big sale, I figured, "why not?"
"Ditto O" on the other hand, is supposedly a dupe for NARS blush, "Orgasm." I've been craving to purchase the NARS blush but couldn't fathom eating $26 for blush (nevermind I did $24 for mascara and eyelash curler EACH). So I shopped around for a dupe. Aromaleigh's Pure Rouge "Verve" popped up a lot. A bit more searching and I found myself some swatches of Lumiere's "Ditto O." I think NARS might have a bit more golden shimmer? Haha, I might need to go to the store and check it out again. Either way, I really like both items and can't wait to try them out.
The had a bit of a problem pulling the tape off the sifters for these two products. The sifter is really flimsy so when I started pulling at the tape, the sifter also lifted up and product started getting everywhere.
This was also another product I received for free since I spent over a certain amount. I love the formula. It doesn't seem too drying which makes it an immediate win. :) Still, whenever you wear gloss, my one tip to everyone is to use some sort of lip balm underneath!
I would definitely purchase from these guys again. LOVED the products.