Hi y'all! I'm going to try posting as many swatches as I can with as much variety as I can while I have the time to do so. I'm going to be entering another busy 2-3 weeks in addition to more grad school applications. Therefore, you'll be seeing a lot of things from me in the next few days (hopefully). I've been practicing with my camera and I think I may have figured out a way to take decent pictures of my lips - yay!
Let me just preface by saying that I hate wearing things on my lips. I chew on them more than the average person does and most of the time, lip products dry them out so much which just makes me chew on them even more. It was after I tried a MAC product that I realized there was a new world to be explored. Yeah, I'm behind on the times. Haha.
HauteLook
had an awesome NYX sale a couple of weeks ago. I snatched up an 11-piece set of their
lip lacquer pots
and a 13-piece set of their
diamond sparkle lip gloss
. The lip lacquer pots retail for $6 each and I paid $33 for the set. That comes out to $3 per pot.
According to NYX:
Drench your lips in this high-shine, high-impact lip lacquer in a portable pot. Whether applied over lipstick or worn solo, the results are always ultra-luminous.
Here is a picture of my normal lips: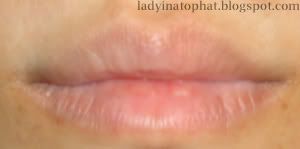 Now onto the swatches!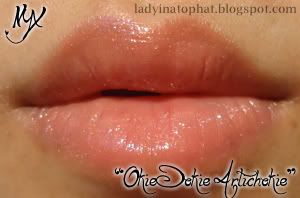 Background:
I don't usually wear lip products because I like to chew on my lips, smack them together and bite them. It's a hot mess. When I eat, I don't dab at my lips, I dig into my lips and wipe. I'm rather...'indelicate' (is that the right word?) that way. In any case, it never lasts long and I get too lazy to have to continuously re-apply. But I do like using them even if they last for a short while. The problem is, most glosses and lipsticks usually dry my lips out if I don't prep them with some lip balm so I have to be careful about what I pick up.
Formula:
I used some lip balm before putting on the lip lacquer. The color pigmentation isn't as great as I thought it would be so a bit of layering is required. It's not as tacky as I thought a product with the word 'lacquer' in it would be. It's stickier than normal gloss would be though. If you just do a single swipe, it goes on pretty sheer. This is great for people who want a touch of color but a lot of shine. If you want it to be opaque on your lips, you may need to layer. It's not too drying - yes, I can usually tell even through lip balm - and there's no scent or flavor to them. This is a plus for those of you who have an aversion to flavored lippies.
Pricing:
I would not fork out $6 for this item but $3 is fine with me. Like I said, I don't usually like wearing lippies so I'm not too keen about paying over $5 for cheaper end items. That being said, I think people who love lip products should at least try this out. It's great for daytime wear which is fantastic for me. I can just swipe it on and be off, no worrying about whether or not the color is okay for the occasion.
Use
: You definitely need a lip brush. The jars go in a bit deeper than usual so you have to reach in with your finger. This may result in product under the nails which I know is a big no-no for some of you.
Overall
: I really liked this product but I wished the product had more pigment in them. I also wished the formula was thicker but c'est la vie. At $3 a pot, I ain't complaining. NYX didn't do too bad of a job. Kudos! Like I said, I would not pay $6 a pot - I am stingy that way but I definitely do not regret this purchase. I LOVE the colors!
Please note that I will continue doing more swatches of this product! I just didn't want to rub my lips raw while taking the product off each time so I thought I'd do them in parts.
What do you think? Have you tried this product yet?