Alright, I have been a swatching fiend these last few days because I finally have some time to sit down and play with my Darling Girl haul and I already have a list of full-sizes MUST haves written down. I also just found out through her
blog
that another new collection will be debuting soon. Whaaaat? I can't wait! I can purchase my full-sizes then also. :D
The next few posts will be all about
Darling Girl Cosmetics
. I am loving this brand. Before I start raving, let me post the colors so you can see for yourself: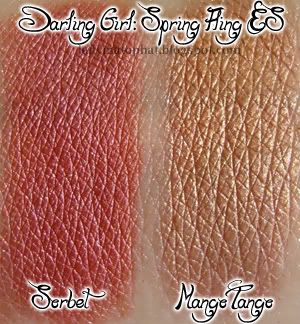 Quick run-down:
1. Shipping is quick as always. It was ridiculous how fast I got these considering Susan had just re-opened the store when I purchased and 4 new collections had debuted.
2. The girl has her formulations down pat. I love how smooth and buttery these shadows swipe on. There is no patching and even the ones with a lot of glitter go on smooth. Hello thur. I <3 you. (Patchy eye shadow is a big irk of mine.)
3. I love how soft the colors are. I can wear these for a night out and just as easily wear them into a conservative work environment.
I wish there were more collections! I want them ALL. Lol. Serious though, no joke, the formulations of the colors I have tried are amazing. With Meow, I love the variety but I always find some colors to be a bit patchy upon application. With DG, I have not had that issue.
From this collection, I have so many favorites! Plum Blossoms, Garden of Weedin', Butterfly Flutterby, Mango Tango...gosh, they're all so pretty!
Have you tried DG Cosmetics yet? If so, what are your favorites?