Hi all! I'm so sorry for the lack of posts lately. I ran out of Pixie Epoxy for swatches and had to order some. I actually thought I submitted my order but it turns out that I didn't complete my order by finalizing the payment. HAAA. I are so smart. Anyway, while I'm waiting for that to come in, I've been on a no-buy/low-buy. With makeup.
Not with food.
I can't look at my credit card. Makes me realize how much of a glutton I truly am. FOOD. How I love thee.
Anyway, I did do something pretty fantastic the other day. For a while now, my friend Lisa and I have been talking about getting eyelash extensions. I don't know why she needs them because I think hers look fantastic. Mine on the other hand, not so fantastic. I would love to have long, luxurious lashes and I hesitate to use falsies because they always look like...falsies. So then when
BuyWithMe
sent me this email: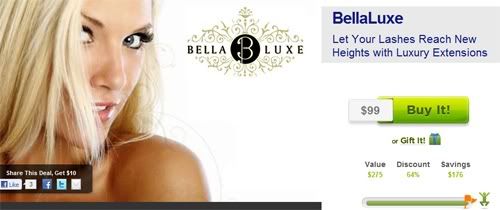 I just had to get it. These type of appointments for your first full-set of lashes generally range in the $275-$300+ area depending on how you want your lashes done (full set, longer, thicker, etc). Some places actually charge you by the lashes - the cheapest I've seen has been $2 a lash. This is definitely not an inexpensive hobby.
BellaLuxe in Falls Church, VA on the other hand, does a set fee which is originally priced at $275. With this deal, you can get
an entirely full-set of lashes for only $99
. THAT is a steal.
I guess people would question whether or not these ladies do a good job if it's priced so cheap. Honestly, that thought never entered my mind. I guess it should've because it was such bargain but I think I was just super excited that I could get this done and it was less expensive than I would've paid. So I went to their website and scheduled an appointment. They have 4 stylists - Mitzi (owner), Dasha, Kirsten, and Lauren. Dasha and Kirsten were the only ones that showed up as being available on Saturday. I picked Dasha because that sounded like the most fantastic name ever.
I got lost trying to find the place but I still found it! Upon entering 10 minutes late for my appointment, I was greeted so very warmly by all the ladies. They are the bubbliest people I've ever met and seriously, how can you not love that sort of introduction?
I was severely hungover that morning too, having drank heavily the night before.
The way it works is that each extension is painstakingly adhered/bonded to each one of your eyelashes. If your stylist knows what she is doing, she will never attach more than 1 extension to one of your eyelashes. By the time they finish, the extensions should look like YOU'VE been growing them.
Anyway, they got me signed in, set up a file for me, and got to work. Dasha asked me what length I was looking for and she spoke with Mitzi as to how thick they would make it. Dasha suggested 0.20 thickness and Mitzi suggested a 0.15 and 0.20 mixture to keep my natural lashes from being weighed down by them. Dasha also asked me if I wanted them longer on the end or in the middle. I said middle since that's how natural lashes look. The process takes a good 2-3 hrs. Mine took 4 hrs and I found out that it was because even though my lashes are short and fine, I have a *lot* of them.
Turns out Dasha is a perfectionist. She wanted to make sure that she got every single lash and was worried she was delaying me for something. Mitzi kept singing praises about Dasha which only cemented my feelings that I had chose really well.
Those praises were not for nothing.
Before picture of my lashes:
After:
I cannot sing enough praises about Dasha's work. She really is an artist. My eyelashes look super long and you can't tell that they're extensions.
I love them. BellaLuxe last extensions can last up to 2 months depending on the natural growth cycle of your eyelashes and how well you maintain them. The life cycle of an eyelash is 60-90 days. Lashes will shed naturally at the end of their life cycle and re-lashes will be necessarily every 2-4 weeks to replace the fallen lashes and re-growth. Some final thoughts:
- Initial cost is $99 if you get in on
this deal
. Otherwise, you'd be paying $275 at this location and much more at other locations.
- They have a policy that if you don't do your touch-ups within 3 weeks, you will need to pay for the full-set. Touch-ups are $85.
- I purchased their special oil-free makeup remover ($35) and their serum ($25) which helps preserve the bonding. You don't have to but I did because I wanted to keep these bad boys in line. :)
Conclusion
:
- The cost can be a bit heftier than what most of you want to spend (if this is the procedure for you) but honestly, even if you don't do the deal and you pay $175 full price, I think it's well-worth it. I love how my eyes look. No more curling, mascara, etc. I wake up, I look in the mirror, and I'm even more narcissistic than ever. Upkeep can also be pricey. For me, it's something I will have to work at budgeting. :)
- Location is a bit difficult to find. You have to pull in to this driveway (there will be a sign that says "282" on N. Washington St. in Falls Church, VA which is where they're located) that leads you to this back parking lot. When you get out of your car, you take the stone path leading to N. Washington St. and you'll see BellaLuxe sign on the bottom floor of this building (beige building, I think?).
- There are a few rules about maintenance. You can't get your new lashes wet for 24 hrs, don't sleep on them (aka sleep on your back), avoid hot steam from showers/saunas, don't use curlers unless it's one specifically made for the lashes (honestly, you don't need curlers), etc. No worries! They will go over EVERYTHING with you while you're there.
- Make sure that when you schedule your appointment, you are SERIOUS about it. Do not cancel. These stylists are busy ladies who need to set aside a serious amount of time for your lashes. If you cancel, not only are you doing a great disservice to their business but you're also being entirely disrespectful. They will also charge you 50% of your appointment (so if you're getting a full-set of lashes, that's $275 divided by 2). Rescheduling costs $10.
- I cannot go on enough about the sort of service I got here. I loved them, especially Dasha.
Would I go back again?
- HELL YES. I am definitely sticking with Dasha. I loved her work, I loved how meticulous she was, she had no qualms consulting the other ladies to make sure that my lashes turned out the way I wanted at the most optimal setting, and she kept making sure that she wasn't delaying me from anything. You WANT a perfectionist to be doing this procedure for you. A perfectionist with steady hands. That's what Dasha is. She kept on telling me how great things were going to look once we were finished which only fueled my excitement. Trust me, I was like a little kid in a toy store after mommy and daddy said I could have all the toys in the world. THAT'S how excited I was. I never felt like just another customer either - she was so warm and welcoming (same with all the other girls) that I couldn't help but drag her into a hug at the end.
- All in all, I feel beautiful and confident and hell if I wasn't vain enough before, I most definitely am now. I am so jealous of those of you who have naturally long, beautiful lashes. I do not but this is a great substitute for me. :)
One hundred million stars out of five
.
What do you guys think? :) Let me know if you decide to do this! I would love to hear about your experiences!
Edited to say that if you want to take advantage of this deal, click on the BellaLuxe picture (or any other links in this blog post), then click on "Other Deals" at the top of the page. BellaLuxe should be the 6th option down. As of 1/17, you've still got 1 day left to purchase this special!