Tonight is the last night you guys will be able to get your hands on
Meow Cosmetics
beautiful collection,
Caribbean Escape
. I ordered a large bunch of Meow samples, a few of which included samples from this collection. These puppies were shipped and received right before my business trip so I didn't have anytime for swatching. I won't have much time this week either because of my GMAT on Saturday (wish me luck) but hopefully, if I do well, I will have plenty of time after that. (All things held fixed: necessary purchases, grad school applications, work in general)
Moving on...for Labor Day weekend, Meow is having a special sale. All items are 20% off, plus
free shipping
with no limit! Since this LE collection will be going away for a bit, I was itching to buy. However, I have stayed away and hope to keep it that way because until my low-buy is over, I must not purchase any new makeup. Then, I will SPLURGE. :D
There was a bit of a mix up in my order though. Two of the blushes I ordered from their Lost Rainforest collection, Forest Flame and Ginger Torch, were the exact same. I consulted a few people, swatched both colors multiple times, and played with the minerals every which way. I don't know which blush color I received but I do know the mineral in the baggies labeled Forest Flame and Ginger Torch are an identical match. No worries. :) I contacted them so hopefully this will get sorted out soon.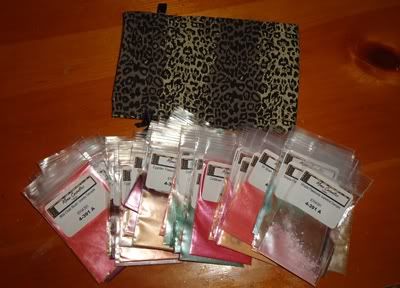 I love the kitty print bag I got! Definitely useful. :)
Aren't the colors pretty?

I didn't realize how many shades of green I got until I saw this. Ah well, they're all very beautiful. <3
I have already used Calypso for a look. It's SO pigmented, all you need is a tiny bit! Definitely worth purchasing!
That's it for the swatches. I'm going to wait for my Lost Rainforest issue to be resolved before posting more swatches. :D This is only one part of my Meow swag.
What's your favorite colors? I am absolutely gaga over Papaya! It's a very pretty dusky pink. These pictures are in natural sunlight but since it was somewhat cloudy outside, they're a bit darker than usual. I didn't want to use flash since it washed out all the colors. Hopefully, I'll be able to work out this camera issue soon. Preferably not much longer than that. :)