Hello all! Hope your day is going well. I buckled and bought Urban Decay's
Naked Palette
after much inner monologue. I also attached a
Eyeshadow Primer Potion - Professional Size
because I've been meaning to try it out. What better time than when I can use it to take advantage of their free shipping? Woo. I can't wait until they both come in.
Caitlin of
Shiro Cosmetics
also sent me a shipping notification. Eee! I've been watching it like a mad rabbit.
Anyway, today I finally got around to doing my
Meow Cosmetics
Dance of Death
collection. The colors are phenomenal. There's a wide variety of items (eye shadow, veil, liner) and the loose powder goes on quite creamy. As always, everything is swatched over
Fyrinnae's
Pixie Epoxy in my little kitchen.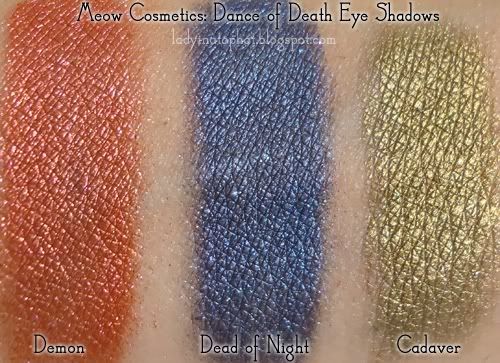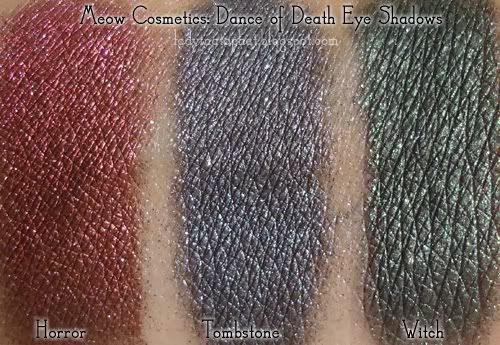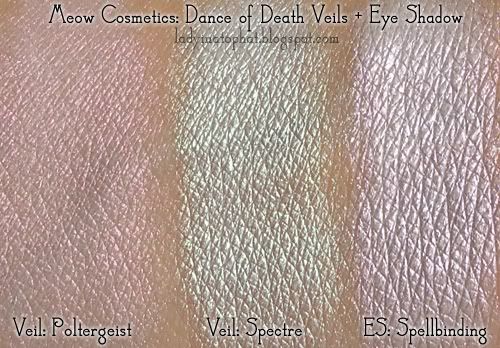 The mixing medium I used for the liners was Visine. Haha, I don't have any other mixing medium aside from that and water.
Favorites: Can I say the entire collection? I mean I tried picking out favorites but it was practically every single color. Meow is definitely a favorite in general. <3
Also,
Persephone Minerals
just debuted another part of their Sailor Senshi Collection:
The Sailor Jupiter Set
The photo was taken from the Etsy store. I put in names so that the colors were easier to separate. Hope I got them all right! I've been stalking the
blog
and I guess Sailor Venus is coming out next. Wooo! I'm so excited to see what colors are coming.
Arrrgh, was gonna do Zombies next but I'm so tired and I've got work in the mornin'. Night y'all.